How Do I Get Rid Of Wrinkles?

Meet BELOTERO BALANCE!
One of the most important factors in choosing a filler treatment is understanding how it works. Over time, our skin begins to lose naturally occurring components such as collagen, elastin, and hyaluronic acid (HA), leaving skin more prone to develop etched-in lines and wrinkles.
BELOTERO BALANCE® is a hyaluronic acid (HA) injectable filler that completely integrates into the skin tissue. While some fillers are designed to rebuild facial volume and structure, BELOTERO BALANCE specifically treats moderate-to-severe etched-in lines and wrinkles such as vertical lip lines above and around the lips.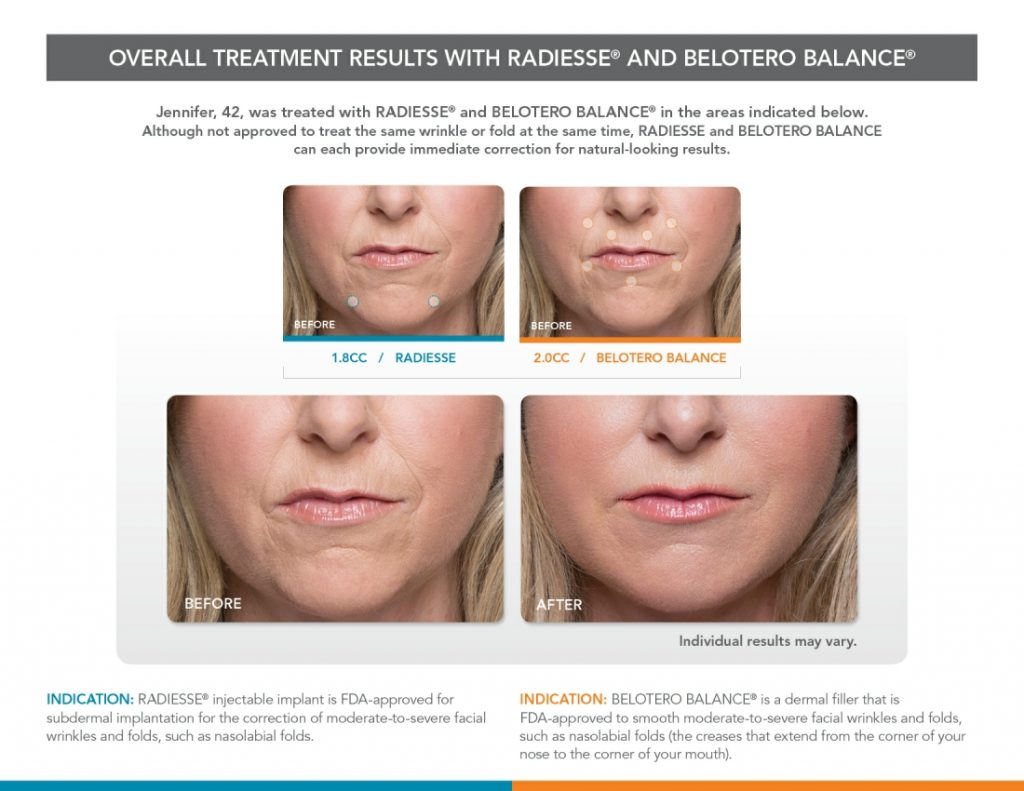 FREQUENTLY ASKED QUESTIONS
---
What is BELOTERO BALANCE®?
BELOTERO BALANCE is an injectable filler that is used to smooth moderate-to-severe etched-in lines and wrinkles on your lower face. Upon injection, it quickly and evenly integrates into your skin.
Is this like a botulinum toxin treatment?
No, BELOTERO BALANCE acts in a totally different way. It fills in areas in the skin to reduce the depth of wrinkles, lines, and folds. The skin remains mobile and flexible, with a natural look, feel, and movement.
What is the difference between BELOTERO BALANCE and other fillers?
BELOTERO BALANCE is a dermal filler designed to integrate into facial skin tissue. The unique manufacturing process for BELOTERO BALANCE yields a soft and cohesive gel that, once injected, instantly fills the skin to help smooth lines and wrinkles. While the product is versatile enough to handle moderate nasolabial folds (smile lines around the mouth), it can be an ideal option for treating delicate areas such as etched-in smile lines and vertical lip lines (thin lines that appear above and around the lips).
How does it work?
BELOTERO BALANCE is made of a material called hyaluronic acid, also known as HA, that comes in the form of a smooth gel. When it is injected beneath the skin, it fills in small gaps in the tissue. This smoothes the wrinkles, folds, and lines, for immediate correction that looks and feels natural.
How soon can I expect results?
Instantly! Immediately upon treatment, BELOTERO BALANCE helps smooth etched-in lines and wrinkles in your lower face.
How long does it last?
Individual results may vary, but BELOTERO BALANCE may last up to 6 months in many patients. Some factors that affect how long it lasts are the amount of product used and the area it is injected into. In areas that experience a lot of movement due to eating, talking, and smiling, the product may not last as long as other less active areas.
How much do I need?
Just as wrinkles and folds vary from face to face, so does the amount of BELOTERO BALANCE needed per treatment. It's very individual, depending on the amount of correction desired, the number of areas to be treated, and other factors. We can estimate better once we have a consultation about your individual needs.
Does it hurt?
As with all injectable treatments, there can be discomfort associated with the procedure.1 If you have concerns, discuss them with your healthcare provider, because there are effective ways to manage this during treatment.
For More Information http://www.belotero.com/how-it-works/
Balance Medical & Day Spa is the premier place for BELOTERO BALANCEs in Columbia, Chapin, and Irmo, South Carolina. Flawless skin is our goal! Call or use our contact form to set up a consultation and get back to feeling good and looking great.